Course Description: StencilGirl® Spirit with 5 Superstars!
5 Superstars
5 videos across 5 days 
The fun begins on September 13th.
StencilGirl® Superstars Carolyn Dube, Seth Apter, Rae Missigman, Lucie Duclos, and Traci Bautista have prepared a video for you. Think of them as aperitifs to your daily art practice this week.
These free videos are not downloadable and are only available to watch for a limited time.
1

Layer Me, A Stencil Technique for Your Gel Printing Plate by Carolyn Dube

Links & Stencils ~ Carolyn Dube aka A Colorful Journey

2

Rae Missigman's Using Texture Paste & Watercolors with your Stencils

Links & Stencils ~ Rae Missigman

3

Floral Postcards with Lucie Duclos

Links & Stencils ~Lucie Duclos

4

3 Easy Ways to Create Complex Layers with Seth Apter

Links & Stencils ~ Seth Apter

5

Ink + Watercolor + Wax Stencil Play with Traci Batista

Links & Stencils ~ Traci Bautista

6

Bonus! Tissue Paper Stenciling the Mary Beth Way

Bonus Links & Stencils ~ Mary Beth Shaw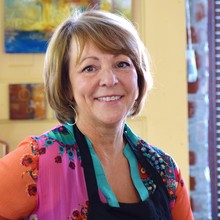 Mary Beth Shaw
Owner
Mary Beth Shaw worked in the insurance industry for 18 years before she quit her job in 2000 to re-ignite a childhood love of art. She is now a full time painter and internationally known workshop instructor. Her creative process is largely self taught, spontaneous and joyful. She is author of Flavor for Mixed Media and Stencil Girl , both published by F&W and is also a columnist for Somerset Studios Magazine.In 2010, Mary Beth recognized a need for 'artist designed' stencils and created StencilGirl Products, which has quickly grown into a respected supplier of high quality stencils for all media. Living with her husband and three cats, Mary Beth is passionate about every moment of life.