Course Description: 6 Pack
Mary Beth Shaw is sharing 6 techniques using the original six stencils from when she started StencilGirl®.
Marbling with the River Rocks Stencil
Ink on a Gel Plate with the Web Stencil
Distress Texture Paste & Embossing Powder with the Trees Stencil
Fat Marker Printing with the linear part of the Rafters Stencil
Water-activated sprays (dye or dye and pigment) with the Gears Stencil
Watercolors with the Greek Key Stencil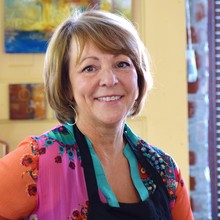 Mary Beth Shaw
Owner
Mary Beth Shaw worked in the insurance industry for 18 years before she quit her job in 2000 to re-ignite a childhood love of art. She is now a full time painter and internationally known workshop instructor. Her creative process is largely self taught, spontaneous and joyful. She is author of Flavor for Mixed Media and Stencil Girl , both published by F&W and is also a columnist for Somerset Studios Magazine.In 2010, Mary Beth recognized a need for 'artist designed' stencils and created StencilGirl Products, which has quickly grown into a respected supplier of high quality stencils for all media. Living with her husband and three cats, Mary Beth is passionate about every moment of life.