Course Description: Simple Improv Bookmaking
Mary Beth Shaw, Instructor
Welcome to Simple Improv Bookmaking!
You can make a book! 
Use a single "parent" sheet of paper to create splendid pages in Simple Improv Bookmaking with Mary Beth Shaw. In this course, you will learn how a nice wash of color and just the right amount of detail work together to create cohesive pages. You will also learn how to stitch "signatures" into your cover, creating an artistic journal that is ready for later details – perfectly sized for a theme, use as a travel journal, a place for your thoughts, or to give as a gift.
Binder Bonus! Learn how to create a fascinating binder with cardboard and spray paints.
1

Simple Improv Bookmaking: Painting the Pages

Simple Improv Bookmaking: Painting the Pages

Simple Improv Bookmaking: Binding the Book

Simple Improv Bookmaking: Binding the Book

Bonus Project: Intro to Making the Binder

Bonus Project: Supplies for Making the Binder

Bonus: Binder Instructions

StencilGirl Studio Community Group on Facebook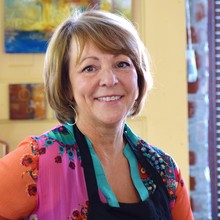 Mary Beth Shaw
Owner
Mary Beth Shaw worked in the insurance industry for 18 years before she quit her job in 2000 to re-ignite a childhood love of art. She is now a full time painter and internationally known workshop instructor. Her creative process is largely self taught, spontaneous and joyful. She is author of Flavor for Mixed Media and Stencil Girl , both published by F&W and is also a columnist for Somerset Studios Magazine.In 2010, Mary Beth recognized a need for 'artist designed' stencils and created StencilGirl Products, which has quickly grown into a respected supplier of high quality stencils for all media. Living with her husband and three cats, Mary Beth is passionate about every moment of life.