Course Description: Gelli Printing & Printmaking
Mary Beth Shaw, Instructor
Painting and printing and more, oh my!
Take a look inside the class. I hope you find Gel Printing & Printmaking as fun to take as it was to make!
Throughout this course, we will explore the terminology, techniques, and tools used for Gel Printing & Printmaking. You will learn how to use multiple-size Gel Plates, plus the techniques involved with each to create your perfect work of art. Lastly, you will learn how to create Collagraphs, plus tips and tricks that will help you achieve the look you desire. 
Each segment is designed to be concise and presented clearly so it can be effectively mastered. We have provided a link so you can conveniently purchase this course's supplies from StencilGirlProducts. 
1

Gel Printing and Printmaking

Painted Papers (22:16 min)

Small Square Gel Printing (15:18 min)

Monotype with Gel (Article)

Circular Gel Plate Printing (13:36 min)

Mono Tape Printmaking from Gel Plate (11:18 min)

StencilGirl Studio Community Group on Facebook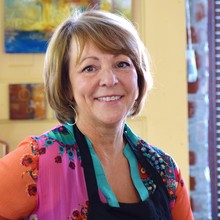 Mary Beth Shaw
Owner
Mary Beth Shaw worked in the insurance industry for 18 years before she quit her job in 2000 to re-ignite a childhood love of art. She is now a full time painter and internationally known workshop instructor. Her creative process is largely self taught, spontaneous and joyful. She is author of Flavor for Mixed Media and Stencil Girl , both published by F&W and is also a columnist for Somerset Studios Magazine.In 2010, Mary Beth recognized a need for 'artist designed' stencils and created StencilGirl Products, which has quickly grown into a respected supplier of high quality stencils for all media. Living with her husband and three cats, Mary Beth is passionate about every moment of life.
$331.00

$331.00

Stencilicious A - Z

Buy Now