Course Description: Layers of Stencils
WELCOME! 
Salutations to you.
     Complete artwork with a limited color palette? You bet. 
     Opposites really do attract in this Layers of Stencils class. Begin the journey with me as we use two colors to create neutrals and then add, you guessed it, stenciled layers.
     You can apply this art technique as you wish. I made greeting cards and went wild in the bonus materials.
     Play with color theory and discover your favorite attracting opposites.
Mary Beth Shaw
Layer it StencilGirl® style! 
Art level: Any
Hone in on: 
Opposites, a bit of Color Theory
Complementary Stencils for Layering
Neutrals Not Mud
Background Text & Other Enhancements
2 Bonus Videos: 
Use wild colors as you create a Floral Bonanza
Mosaic + Embellishment = Eye-Catching Card
& a PDF in case you are a reader
Apply what you learn:
Unique Cards
Collage Parts
Mosaics
Wall Art
On Fabric
Click the links to SIGN UP!
1

Introduction and Supplies for Layers of Stencils: Opposites Attract

Supplies for Layers of Stencils

2

The Palette: For the Love of Neutrals

3

Thinking Outside the Stencils with Circles & Ovals, Squares & Lines

Backgrounds Part 1: Thinking Outside the Stencils with Circles and Ovals

Backgrounds Part 2: Thinking Outside the Stencils with Squares and Lines

4

Layers of Stencils: Cards on the Table

5

Bonus : 2 Downloadable Videos & More!

StencilGirl Studio Community Group on Facebook

Mary Beth's favorite art supplies available via Amazon

Bonus: Easy Embellished Card Mosaic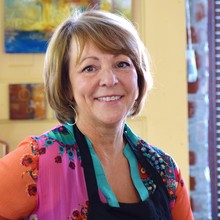 Mary Beth Shaw
Owner
Mary Beth Shaw worked in the insurance industry for 18 years before she quit her job in 2000 to re-ignite a childhood love of art. She is now a full time painter and internationally known workshop instructor. Her creative process is largely self taught, spontaneous and joyful. She is author of Flavor for Mixed Media and Stencil Girl , both published by F&W and is also a columnist for Somerset Studios Magazine.In 2010, Mary Beth recognized a need for 'artist designed' stencils and created StencilGirl Products, which has quickly grown into a respected supplier of high quality stencils for all media. Living with her husband and three cats, Mary Beth is passionate about every moment of life.
$331.00

$331.00

Stencilicious A - Z

Buy Now