Course Description: Painted Paper Party
WELCOME! 
Hello there!
     Want to make something artsy and creative but not do a deep dive with your brain?
     It's time for a few hours of freestyle fun!
     You'll come away with a different perspective and a whole stack of handmade painted papers.
     I think as adults we don't play enough. Painted Paper Party is a delightful solution.
     Let's get the party started!
Mary Beth Shaw
In this workshop, you will learn how to:
Achieve depth in your layers

Make neutral backgrounds exciting

Use the simplicity of black, tan, white, and gold to make gorgeous papers

Apply tips & tricks using tissue, vintage, and printer paper 

Feel like you are cleaning your studio while making art

Relax and discover your mad scientist
1

2

Get the Party Started: The First Layer

Get the Party Started Layer 1

3

Painted Tissue Paper Party: Black, White, Gold, and Kraft

Painted Tissue Paper Party

4

Mark-Making Party with Household Products

5

Vintage Painted Paper Party

Vintage Painterly Paper Party

6

Perfect Paint Party: Lovely Luscious Layers

Pretty Painted Paper Party Layers!

7

Your Painted Paper Party PDF

8

Bonus : 4 Downloadable Videos & More!

Collage Mania Mother Board

Black & White Spray Painted Papers

StencilGirl® Stencils & Bleeding Tissue Paper

Soothing Art - DIY Mosaic Card

StencilGirl Studio Community Group on Facebook

Mary Beth's favorite art supplies available via Amazon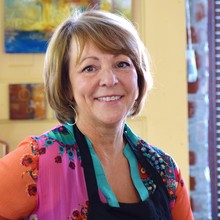 Mary Beth Shaw
Owner
Mary Beth Shaw worked in the insurance industry for 18 years before she quit her job in 2000 to re-ignite a childhood love of art. She is now a full time painter and internationally known workshop instructor. Her creative process is largely self taught, spontaneous and joyful. She is author of Flavor for Mixed Media and Stencil Girl , both published by F&W and is also a columnist for Somerset Studios Magazine.In 2010, Mary Beth recognized a need for 'artist designed' stencils and created StencilGirl Products, which has quickly grown into a respected supplier of high quality stencils for all media. Living with her husband and three cats, Mary Beth is passionate about every moment of life.
$331.00

$331.00

Stencilicious A - Z

Buy Now