Course Description: StencilGirl Explores Claybord
"Everything is an opportunity in art." 
~ Mary Beth Shaw
Claybord is a magical substrate for making mixed media art. In this project-based class, you will learn how to use ink, pens, pencils, paint, a silhouette, and StencilGirl® stencils as you decide what you want to build in each dramatic layer. 
Stylish silhouettes that work well for this mixed media project
Carve, paint, and ink a richly layered background
Enhance the artwork with pencil and pen marks
Add grunge and fluorescence 
Bonus 1: Delve deeper into carving
Bonus 2: Experiment with resist techniques
Learn to make stenciled elements yours
1

Free Preview! Introduction and Supplies

2

StencilGirl Explores Claybord ~ The Project

TWO: Build the Background

StencilGirl Explores Claybord

3

The Magic of Claybord ~ Bonus Videos

4

StencilGirl Studio Community Group on Facebook

Mary Beth's favorite art supplies available via Amazon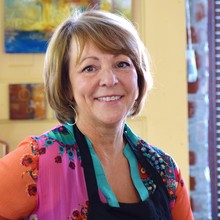 Mary Beth Shaw
Owner
Mary Beth Shaw worked in the insurance industry for 18 years before she quit her job in 2000 to re-ignite a childhood love of art. She is now a full time painter and internationally known workshop instructor. Her creative process is largely self taught, spontaneous and joyful. She is author of Flavor for Mixed Media and Stencil Girl , both published by F&W and is also a columnist for Somerset Studios Magazine.In 2010, Mary Beth recognized a need for 'artist designed' stencils and created StencilGirl Products, which has quickly grown into a respected supplier of high quality stencils for all media. Living with her husband and three cats, Mary Beth is passionate about every moment of life.