Course Description: Stencil 101
WELCOME! 
This quick-take course is designed for everyone who is new - or relatively new - at using stencils in their art. 
We will explore the terminology, techniques and tools used. You will learn to use a stencil with different types of paint and ink pads. There are no projects; basic stencil use is covered so you can start using your stencils! Additional information will be added to this class as time goes on and you will be notified when it is up so you can take a look (for free, of course). Each segment is designed to be short and easily mastered. We have provided links to supplies used that are available on StencilGirl Products.
In this course you will learn:
Handling and using stencils

How to stencil

Repositional spray

Cleaning stencils

When to clean and when to not clean

Brushes

Sponges

Applicators – Ink pads vs paint

Types of paints


1

Stencil 101 - To Clean or Not to Clean...Stencils, that is!

Stencil 101 - Layering Stencils

Stencil 101 - Making Stencils your own

Stencil 101 - Using Silhouette Stencils

Stencil 101 - Mask vs Stencil

Stencil 101 - Examples of Stencil Projects

Stencil 101 - Gel Plate Quickie

Stencil 101 - Seamless Pattern

StencilGirl Studio Community Group on Facebook

Mary Beth's favorite art supplies available via Amazon

Stencil 101 - Storage & Cleaning Tips

2

About StencilGirl Products

Stencil Girl History, Quality, Culture and People

Tour of StencilGirl Headquarters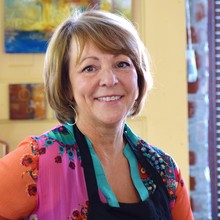 Mary Beth Shaw
Owner
Mary Beth Shaw worked in the insurance industry for 18 years before she quit her job in 2000 to re-ignite a childhood love of art. She is now a full time painter and internationally known workshop instructor. Her creative process is largely self taught, spontaneous and joyful. She is author of Flavor for Mixed Media and Stencil Girl , both published by F&W and is also a columnist for Somerset Studios Magazine.In 2010, Mary Beth recognized a need for 'artist designed' stencils and created StencilGirl Products, which has quickly grown into a respected supplier of high quality stencils for all media. Living with her husband and three cats, Mary Beth is passionate about every moment of life.
$331.00

$331.00

Stencilicious A - Z

Buy Now