Course Description: The Gift of the Present
Art will bring you to a different place every time
Art will bring you to a different place every time. 
Today's world can be a lot to take. I know you understand what I mean.
In The Gift of the Present, I want you to step back and make some time for yourself and make space where you can express some of your deepest thoughts, get them out on the page as you make a beautiful, meaningful piece of art.
I will share with you how to create a work of heart and soul, filled with mystery that captures the essence of what you want to manifest in your life or things for which you are grateful.
During our mixed media journey together, you will learn to layer color and patterns, the push-pull of resists, and especially, where you are in this moment as an artist.
1

Instructions for this template

The Gift of the Present Part 1

The Gift of the Present Part 2

The Gift of the Present PDF

StencilGirl Studio Community Group on Facebook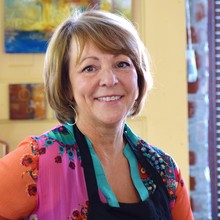 Mary Beth Shaw
Owner
Mary Beth Shaw worked in the insurance industry for 18 years before she quit her job in 2000 to re-ignite a childhood love of art. She is now a full time painter and internationally known workshop instructor. Her creative process is largely self taught, spontaneous and joyful. She is author of Flavor for Mixed Media and Stencil Girl , both published by F&W and is also a columnist for Somerset Studios Magazine.In 2010, Mary Beth recognized a need for 'artist designed' stencils and created StencilGirl Products, which has quickly grown into a respected supplier of high quality stencils for all media. Living with her husband and three cats, Mary Beth is passionate about every moment of life.